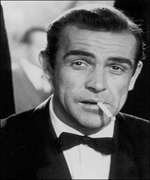 Welcome to my James Bond Fansite
"Bond, James Bond." He's one of the most iconic figures in cinematic history. Enduring for nearly 50 years now, no other character has persisted for so long in film. From the classy style to the coolest gadgets, his appeal has spread through generations both male and female.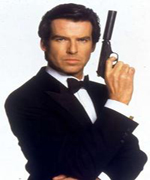 Created in 1952 by author Ian Fleming, James Bond has appeared in 12 novels and 9 short stories by the original author. Bond has since appeared in many novels by many other writers. The super spy has appeared in 22 films to date. He has been portrayed on film, TV, and radio by 12 different actors. Bond even has a very successful line of video gaves based on him including one of the all time greatest Goldeneye on the N64. Since he has been around for so long and has appeared in so many forms I will focus on the cinematic history of James Bond.
The Pages that follow are a general history of the James Bond film franchise. I will strive to add to and update this site so that it may one day match my enthusiasm and passion for the character. For now, sit back, relax and enjoy my tribute to Bond that is definitely shaken, not stirred. Please keep in mind that this is my 1st web page EVER. So be gentle...It will grow and evolve with time and skill development.